Previously posted by Jane Reeves on Go Yoga Jane blog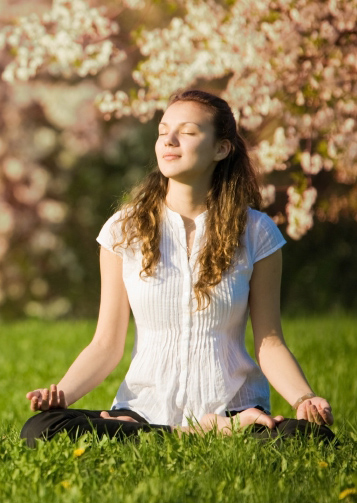 It takes great discipline to practice the art of "being present."  We are conditioned from the moment we wake, until we close our eyes and sleep, to being busy. When we come from that place, we are never really where we are, doing what we are doing, engaging fully in the moments of our lives. Some people don't like to slow down. It scares them. It makes them notice their feelings and thoughts and wonder about their lives. Am I happy? What do I want? What am I doing?
Reflect on times when you have felt really aware, present and relaxed. Noticing everything going on, within you and around you. When I was younger, some of the most present moments in my life were spent raising my children. Especially when they were very young. If we were at the park, or reading or eating together I loved experiencing through their filter, what the world was like. How new and fresh everything was. Long moments would pass and not much would happen. And it was truly satisfying. Very relaxing.
At this time of life I notice that being present in nature offers great satisfaction.  Being outside in quiet majestic nature is unbeatable for soothing the soul and calming our mind.
Walking meditation is a wonderful way of cultivating being present . Try this. Go outside in nature soon.  Preferably on grass. Walk slowly while being conscious of each step. The way your foot hits the ground. The way that feels. Just that. That is all you have to do. Just walk and notice. (and watch out for other people or things to bump into)
Writing is another great way of being present. When we write we are in the moment. We are thinking and writing and being. How do you stay present?